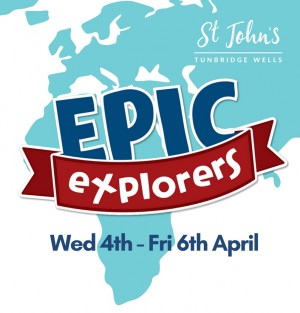 Easter Holiday Clubs - Epic Explorers
Bookings are now open for our Epic Explorers Holiday Clubs! Join us for games, craft and fun Bible teaching.
Wednesday 4th - Friday 6th April
Reception to Year 2 & Years 3 to 6: 9.30am to 12.30pm
Years 7 to 9: 10.30am to 3pm
All join together for Holiday Club Service on Sunday 8th April, 10.30am
Bookings close on Sunday 25th March, and spaces are limited, so please book early to avoid disappointment.
the ARK
We welcome all primary school-aged children to the Ark. We meet in the church centre during the services on Sunday mornings. The children are split into groups for Infants and Juniors with their own dedicated leaders, and the Juniors spend some time each week in their year groups. In their groups, the children spend time learning from the Bible, singing, doing various Bible-themed activities and playing games in a friendly, fun and safe environment.

Broadly, the children look at the Old Testament from June to November each year, and the New Testament from December to May (including the birth of Jesus at Christmas and the death and resurrection of Jesus at Easter). We aim to work through the Bible over a 5-year period.  Once a year, in January, the Ark leads the church service, presenting what we have been learning in recent months to the rest of the church.
All our leaders have been DBS checked.
Holiday Clubs and other events
We run Holiday Clubs for primary school-aged children on 3 mornings during the Easter holidays each year. These are fun times with a Bible theme and lots of cream pies!  
Last year we learnt about the events leading up to Jesus' death and resurrection in "The King's Quest", and this year our theme is "Epic Explorers".
We also hold Light Parties (an alternative to Halloween on 31st October), a Christmas Party and other social events throughout the year, with the aim of building friendships between the children.
Get in touch
Ann Keenan runs our children's work, and if you have any questions then she would love to hear from you. You can get in touch by filling in the form below: