Church Weekend AT HOME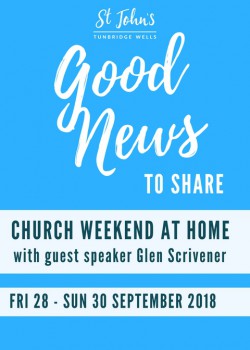 28-30 September 2018
A fun weekend for everyone at St John's, and some great Bible teaching added in for good measure!  
"The Good News really is good ... and it's worth sharing!"  Glen Scrivener
Our weekends in 2013 and 2015 were so well received that we have decided to repeat the format again in 2018 - holding it "at home" will keep the cost down and enable as many as possible to come.  
A great opportunity ...
The weekend will include Bible teaching from Glen Scrivener - originally from Australia, Glen has lived in the UK for more than half his life and has spoken at St John's a number of times. He was curate at All Souls Church, Eastbourne, where he and his family still worship.  He has been the Director of Speak Life since 2014.  Passionate about people meeting Christ and equipping Christians to share their faith, he's often found speaking at Churches and Universities, in the studio producing online media or in his office, writing books and other evangelistic material. Glen is married to Emma, and they have a daughter, Ruby.
... for everyone at St John's!
There is no better way of getting to know others in the church family than by spending time together.  There will be plenty of space in the programme to relax and talk.  And the weekend is for the whole church family, whatever age.  Children and young people are welcome and will have their own programmes (0-4s, 5-11s & 12-14s) running in parallel with the talks.  
PROGRAMME
Friday    Evening session from 7.30pm with buffet meal
Saturday   Morning teaching sessions for all ages, with hospitality lunches and afternoon fun; late afternoon teaching sessions, followed by Saturday night takeaway* and entertainment.   *Indian food will be served; please indicate if you would like an alternative meal 
Sunday   Morning Church with final teaching session, followed by hog-roast on the green


During the weekend, we will be welcoming back the brilliant '10 of those' bookstall.  
COSTS
This is the cost per person/family, for the entire weekend, including all meals and refreshments, together with teaching materials and activities:
     Adults: £35   (rising to £40 after 31 July)     
     Pre-school children: free of charge
     School-age Children: £15   (rising to £18 after 31 July)
     Family Tickets:
         2 adults plus two or more school-age children: £85  (rising to £98 after 31 July)
         1 adult plus two or more school-age children:  £50  (rising to £58 after 31 July)
To book on-line please login using the "Admin" menu at the top of the page. If you have not yet registered on the church website, you will need to do this first in order to obtain a user name and password.