Welcome!
Whether you've just moved to the area, or have lived here all your life, you are very welcome at St John's.
WHERE & WHEN DOES THE CHURCH MEET?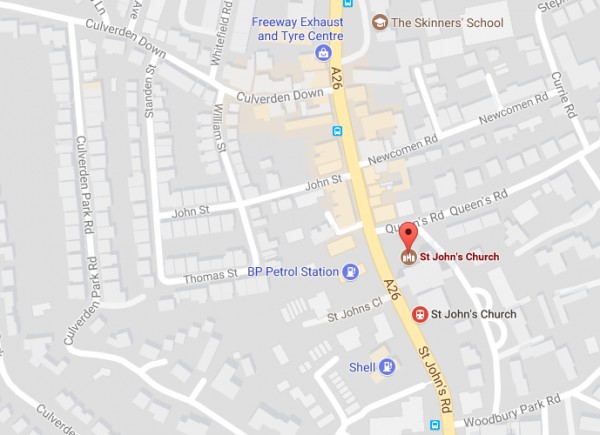 Our main church gatherings are on Sundays at 10.30am and 6pm.

You can find us at: 
St John's Church
Amherst Road
Tunbridge Wells
TN4 9LG
The church car park gets very busy on a Sunday but free car parking is also available on street or, on a Sunday, in John Street Car Park.
What should I expect when I visit the church?
You will receive a very warm welcome particularly from our welcome team who will be able to answer your questions and direct you to where you need to go. At morning church there will be songs and notices before the children and youth depart, followed by more songs, prayers and the sermon. At evening church we remain together throughout for songs, prayers and the sermon.
Morning church finishes around 11.45am and evening church around 7pm. Tea, coffee and biscuits are served after church where there is plenty of time to meet new people and ask questions.
What happens to the kids at church?
At morning church, we have a fantastic programme for ages 0-14. Children stay with their parents at the start of the service as we sing songs together for the first part of the morning service. The service leader will announce when it is time for the children to go to their activities. Each age group has their own programme of fun activities and Bible teaching. If you have a small child, please head over with them to drop them off. More information is available on the pre-schoolers, children and youth pages.
At evening church, those aged 14-18 sit together for the main church meeting and then meet afterwards for food, to discuss the sermon and play games. See the youth page for more details.
Is there a dress code?
No! Please just be yourself and come dressed in your 'normal' clothes.
Will I have to join in?
Not at all! You are free to simply observe or participate as much as feels comfortable for you.
Useful Links
I have more questions, how can I get in touch and ask them?
Please feel free to contact us using the form below: