Easter at St John's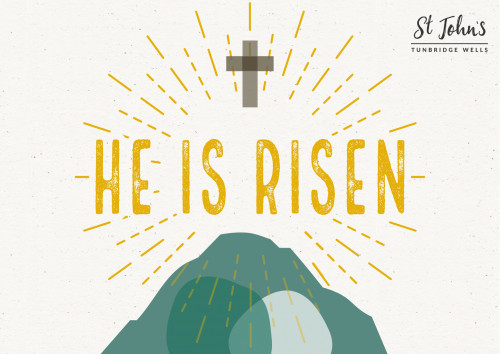 Please do join us for the following as we remember Jesus' death and resurrection:
Good Friday - 7 April
All Age Service, 9.30am
Hour at the Cross, 12noon

Easter Sunday - 9 April
Morning Church, 10.30am
If you are not able to join us in person, you can watch online by clicking here.


Party Time! Holiday Clubs - 4-6 April
Join us for a fun-packed week of Bible teaching, games and craft! 

Tuesday 4 – Thursday 6 April 
Infants (Reception-Year 2)/Juniors (Years 3-6) - 9.30am-12.30pm; Rock Solid (Years 7-9) - 10.30am-3pm
plus all are invited to All Age Church on Good Friday, 7 April - 9.30am-10.30am
Please book by Sunday 26 March.  £10 per child.  Please with any questions or speak with:
Infants - yrs R-2:  Hayley Watts      
Juniors - yrs 3-6:  Ann Keenan       
Rock Solid - yrs 7-9:  Jono Chalklin